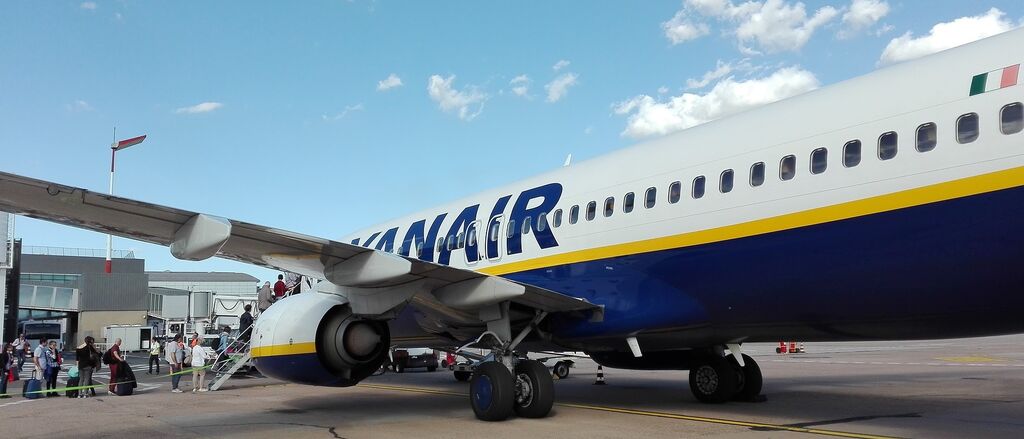 Ryanair: facts, history, data and compensation
Monday, September 30, 2019
This week we thought it would be the perfect time for a new edition of our remarkable stories, facts and history series. This time around it will focus on Ryanair. The Irish airline is well known for its fabulously cheap fares but also its extortionate 'extra charges' concerning almost everything; from baggage to meals and even just checking-in. But before you make any quick judgements, remember that no airline is flawless and that every airline has been involved in some stories that may cause dismay amongst passengers.
Ryanair, an introduction to the famous airline
Ryanair is the second-largest airline in Europe (constantly battling it out against Lufthansa Group) and operates just over 2400 flights on a daily basis. In 2017, Ryanair became the first European airline to have carried 1 billion customers, impressive isn't it?. Whilst Ryanair was founded around 34 years ago, it has grown steadily and branded itself as the best budget-airline in Europe. If you ask Michael O'Leary, its controversial CEO, they're the best low-cost carrier in the world.
Ryanair: its history in a timeline
1985: Ryanair is founded by the Ryan family in 1985, operating with a total number of 25 staff members. The first cabin crew are selected taking into consideration below-average heights, the crew needed to be able to work in the tiny aircraft.

1986: Ryanair begins competing against the high-fare duopoly of British Airways and Aer Lingus. The airline also starts the first price-war in Europe, having flights that are less than half the price of those with British Airways or Aer Lingus.

1991: The outbreak of the Gulf War causes passenger traffic to collapse and the airline to move its base from London Luton Airport to the newly built London Stansted. Despite the impact of the war, Ryanair manages to make a profit of £293.000.

1995: Ryanair overtakes Aer Lingus and British Airways to become the largest passenger airline serving the route from Dublin to London.

1997: The Irish airline launches its first four European flight after Europe's Open Skies agreement goes into effect. This will prove pivotal in the airline's history.

2000: The largest-ever booking website is launched (Ryanair.com), it takes over 50.000 bookings a week within the first three months.

2005: The Irish airline carries more passengers in August than British Airways do on their entire worldwide network, also beating Easyjet for punctuality every week for three solid years.

2006: Ryanair carries a record of 42.5 million passengers during 2006 and, over summer, in particular, becomes the first airline to carry 4 million international passengers in a month.

2009: Profits for the Irish airline rise by 200%, generating £318m while flight demand is steadily rising. Competitors announce cutbacks or losses and some even bankruptcy.

2018: Ryanair takes a 75% stake in the Austrian airline Laudamotion, which opened bases in Austria and Germany.

2019: Ryanair announces new bases in London Southend, Marseille and Bordeaux and opened new routes to countries such as the Ukraine and Turkey.
Facts and Figures from Ryanair

Here you'll find some information and statistics provided by Ryanair as well as some information built using our own flight data.

Ryanair fleet size: 475 aeroplanes. The airline is currently waiting for the delivery of up to 210 additional aircraft.

Total Passengers flown in 2018: 142 million.

On-time performance: According to the airline itself, in 2018 Ryanair had an OTP of 88% which makes it the most punctual global low-cost airline. Ahead of its major competitor EasyJet who had a significantly lower OTP score of 77%.

It is impossible for any airline to operate every single flight on-time. Nonetheless, there is some good news for Ryanair passengers! In 2018 the Irish airline announced it was planning to speed up paying flight delay claims. Their intention was to bring the average wait time for passengers from 28 days to just 10. It is worth mentioning that this is only the time that Ryanair takes to reply to your request and oftentimes the airline will simply reject a passenger's claim in the defined time period. Even though sorting out all these claims for flight delays or cancellations can be complicated, Ryanair has continued to perform well. Around 88% of their flights will depart and arrive on time.
Customer satisfaction: a problem for the low-cost carrier

Let's not beat around the bush. It is commonly known that Ryanair isn't the best when it comes to baggage allowance or seat reservation. They will almost always charge you extra for any kind of add-on and, whomever you ask, everyone has had an unpleasant experience with Ryanair. Nevertheless, if you follow their rules you can get great value from your cheap ticket, without any trouble at all.
What makes Ryanair a great airline:
Flights are very cheap: If you book your journey early enough, you will most certainly find flights for under £50 return. No other airline is known for these incredibly low prices.
The global winner when it comes to punctuality: In 2018, Ryanair managed to deliver 88% of all their flights on an on-time schedule. This makes them a top on-time performer even on a global scale. Popular belief will tell you the opposite.
Lots of flights to lots of different destinations: Ryanair operates more than 2.400 flights on a daily basis and, at the same time, connects to nearly 40 different countries. They are known for their large selection of destinations as well as their convenient flight schedules that operate to more destinations in Europe than any other airline.
You get what you pay for: if you booked a weekend trip from London Stansted to Barcelona El-Prat for £45 return then that is what you will get. You will get cheap flights there and back but you will not be served with golden cutlery. The airline has made it very clear that their model consists of making all small charges separately from your fare. This means that you can travel as budget-friendly as possible if you're willing to sacrifice certain amenities that is.
Remarkable compensation stories and other fun facts
Fun facts about Ryanair:
Ryanair only flies the same model of aircraft, the Boeing 737. All of their 400+ aeroplanes are exactly the same model and the airline has ordered the new 737 max models to expand their fleet to almost 600 aircraft come 2024.

The no-frills approach was pioneered by Michael O'Leary after he was hired in 1987. Greatly inspired by Southwest's success in the United States of America, he set out his vision to transform Ryanair into Europe's version of the American low-cost carrier

Its biggest market in Europe is Italy and not the UK or Spain as commonly thought

The unconfirmed story is that two teenagers built Ryanair's first website back in the 90s. After getting a quote of around three and a half million pounds, the Irish carrier decided for instead having two students set it up for twenty thousand.

Ryanair made all of its profits from extra charges in 2018.

A Ryanair flight departs every 45 seconds

The airline has never suffered a serious accident

Ryanair has seen its ads banned for reasons such as showing a model wearing a bathing suit whilst advertising destinations, the likes of Oslo and Glasgow, where temperatures would not be warm enough to guarantee passengers could enjoy some sunshine and relax at the beach while sporting only some swimwear.
Remarkable delays and compensation stories:
Not enough pilots!
You will hear this very often. Ryanair just simply doesn't have enough pilots to cover all the routes they serve. This results in frequent delays and cancellations if one pilot falls ill or if their leave is not covered accordingly. This was the case back in 2017. 50 to 60 flights were cancelled during a six week period in September 2017. Passengers were entitled to compensation.
That time a drunk chef caused a Ryanair flight to head back to the airport
Earlier this year in Manchester, a drunken chef heading to Tenerife refused to take his seat and let the aircraft take off. This resulted in the ire of his fellow passengers as the plane had to go back to the gate so that he could get, promptly if we may add, kicked off the flight and arrested. The plane missed its departing time slot and therefore had to wait a considerable amount of time before it could take off. This incident is considered an extraordinary circumstance and Ryanair did not have to pay compensation its passengers. The chef could not avoid paying a £500 fine.
Ryanair flights lands at a military base instead of City of Derry Airport
Back in 2006, the pilot of the Ryanair flight from Liverpool to Derry mistook the military base, Ballykelly airfield, for the tarmac at City of Derry Airport. Passengers were allowed to disembark and were taken to the airport by coach. To finish up, Ryanair would later recognise that the error came to be solely due to pilot error.
Ryanair: claiming compensation

We hope that you've learned something new about Ryanair! Despite the airline's efficiency and excellent on-time performance, flights with Ryanair are still being delayed, cancelled or overbooked.

At Flight-Delayed.co.uk we specialise in claiming the compensation that passengers are entitled to when their flights get delayed or cancelled. This can be as much as €600 per passenger! If your flight has been delayed or cancelled in the last 6 years, you can use our free flight checker to see if you are entitled to compensation. Don't worry, use of the checker is non-committal and we have a no-win-no-fee policy (you only pay our 25% win-fee if we succeed at claiming your compensation). We'll cover all the possible legal fees! Don't wait any longer, exercise your rights as a passenger!
Don't want to miss out on any new blog entries? like and follow us on Facebook and Twitter.
---
Trustpilot-Reviews of Flight-Delayed.co.uk
---