What are my rights when my flight is delayed or cancelled?
European passengers are protected by the regulation EU261 in the event of a delayed, cancelled or overbooked flight. UK passengers are also protected by law: EU261 was adopted by the British government following Brexit.
According to those regulations, air passengers have the right to flight compensation in the event of a:

Flight delayed by more than 3 hours upon arrival

Cancelled flight fewer than 14 days before departure

Overbooked flight and denied boarding
What are Extraordinary Circumstances?
For passengers to be able to claim flight compensation, the airline must be the party at fault for the delay, cancellation or denied boarding. If not, the airlines can deny compensation as they can not be held accountable for it and therefore don't owe anything to passengers.
Those situations are called extraordinary circumstances. Extraordinary circumstances are, for example, bad weather, strikes — everything caused by a third party or that the airline couldn't have predicted.
Disrupted flight due to extraordinary circumstances?
You could still be able to get flight compensation!
Claim now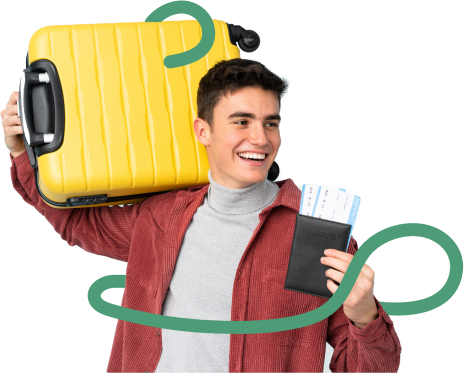 Examples of extraordinary circumstances
Some of the most common examples of extraordinary circumstances are:

Bad weather conditions, such as thick fog, heavy rain, or thunderstorms.

A strike, most often specifically within the aviation industry (for example, a strike of air traffic control workers at a specific airport).

However, a strike of the airline's crew is not considered an extraordinary circumstance!

Political circumstances, such as a terrorist attack or general security risk due to political unrest.

Natural disasters, including volcanic eruptions and hurricanes.

A collision between the aircraft and birds or other foreign objects.

An ill or unruly passenger.

Flight delays caused by the airport staff, such as extraordinarily long queues to security checks.
If one of the above situations applies to your flight, you might not be eligible for flight compensation.
Please keep in mind that the list above is not exhaustive. Sometimes new issues arise (e.g. pandemic travel restrictions) that have to be assessed by a court before flight compensation is either assigned or denied.
Can I still get compensation even if my flight was delayed or cancelled because of extraordinary circumstances?
In theory, no. However, sometimes, airlines claim that extraordinary circumstances occurred when they did not! They do so to avoid paying out flight compensation to passengers.
When an airline says that extraordinary circumstances caused the flight disruption, they have to prove it. If they can't, you can still claim flight compensation!
How much compensation can I get for my delayed or cancelled flight?
It depends on the distance travelled by your flight:

For flights shorter than 1,500 km, the compensation is £220.

For flights between 1,500 and 3,500 km, the compensation is £350.

For flights of over 1,500 kilometres within the EU, the compensation is also £350.

For flights of over 3,500 kilometres outside of the EU, the compensation is £520 —but if your flight was delayed by fewer than 4 hours, the total amount might be reduced by 50%.
How to claim flight compensation and refund?
The easiest way to claim flight compensation and ticket refund is via Flight-Delayed.co.uk !
You need just 5 minutes to upload all important information and documents regarding your flight into our system and then our team takes care of everything else for you. We'll even sue the airline, if court action is needed, and handle the whole legal process.
With us, you can simply relax while waiting for your flight compensation!

Why claim with Flight-Delayed.co.uk?
1m passengers helped
9 legal teams in 9 countries
98% of court cases won
Can I claim flight compensation again if the airline already denied my claim?
Yes! If the airline claims that extraordinary circumstances occurred but you believe that was not the case, you can still try claiming flight compensation via Flight-Delayed.co.uk.
Simply go through our 5-minute online process and our team will assess your eligibility for flight compensation.
Try your luck with Flight-Delayed.co.uk!
We could be able to get you flight compensation up to £520 per passenger!
Claim now