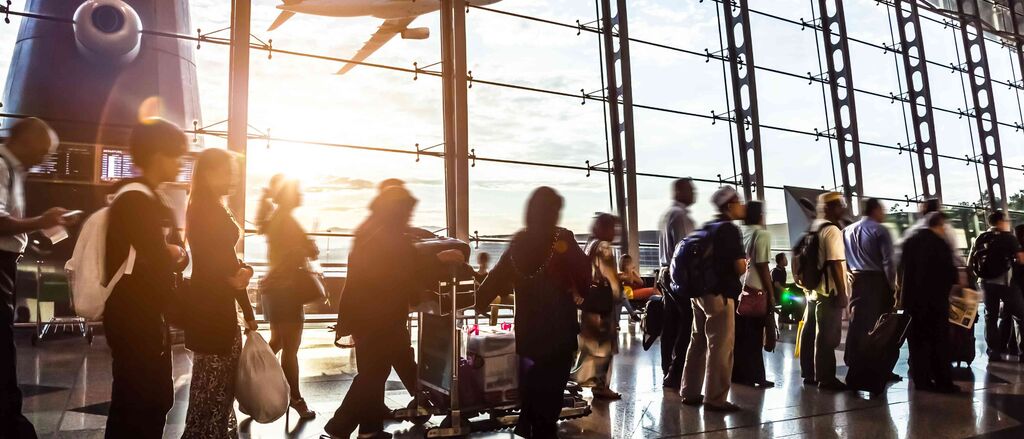 Air passengers forced to enforcing their rights without legal help
Tuesday, December 15, 2020
The so-called "Third Party Clause" prevents affected passengers from seeking legal help to enforce their rights and claim compensation.
The attention of the public eye currently lies with the high amount of refunds airlines are obliged to pay to their customers due to the immense number of flight cancellations this year. This however does not mean that all other legal issues surrounding airlines and passenger rights suddenly become irrelevant. During the last couple of years, the number of flights, passengers and lastly also flight delays has steadily increased. Yet, despite this increase only 14% of passengers know that they are entitled to compensation from the airline for delays of more than three hours, as long as the airline is responsible for this delay. "Over the years, airlines have developed complex strategies to avoid paying compensation to this fraction of passengers that tries to enforce their rights. They will simply claim the delay was caused by an extraordinary circumstance, such as bad weather conditions, in which case the airline would not be responsible to compensate its passengers. Other tricks include simply ignoring the passenger's emails or delaying their responses for months on end in hopes that the passenger will get annoyed and will not contact them anymore. One of their most important tricks is to prevent passengers from enforcing their rights with the help of third parties, including legal experts. These airlines will only process claims made directly by the affected passengers. In a legal context, this seems like an unfair advantage for the airline", states Tom van Bokhoven, CEO of Passenger Rights Specialist Flight-delayed.co.uk.
Claims made by third parties not processed by airlines
According to the terms & conditions of multiple airlines inside and outside of the European Union, such as Emirates and British Airways, passengers have to file a claim directly with the airline and wait for a set amount of time, mostly between 28 and 30 days, for a response. Only after this period are they allowed to enforce their rights with the help of a legal expert or any other third party. Should a third-party file a claim with an airline that uses this clause directly, without the passenger doing so themself, the claim will not be processed by the airline. "This practice is done in order to force passengers to act individually and unassisted and to prohibit authorised representatives from acting on behalf of the affected consumers", explains Tom van Bokhoven from Flight-delayed.co.uk. According to data available to the Passenger Rights Specialist, amongst others easyJet, Vueling and Ryanair use this tactic in particular to offset the rights of their passengers.
Customer left without help from legal experts
Ryanair's use of this clause in their terms and conditions is particularly dubious as the airline has been called out by a court in the European Union for using this tactic. "Ryanair states in their Terms & Conditions that claims filed by third parties will only be processed if the affected passenger has filed a claim themself previously. During previous legal proceedings, the airline has been called out for using this clause as its only purpose is to limit the rights of passengers", says van Bokhoven. In multiple rulings, Dutch and German courts sided with passengers during the past year. In those rulings it was stated that it is not up to the airline to determine whether the consumer's right to be represented should be limited. In fact, it is a right of the passenger to be represented and to engage with a third party. This right cannot be excluded or ignored in any way. Airlines are therefore not allowed to include a provision that a claim submitted by a third party will not be processed if the claim was not submitted by the passenger first. This however is only the case within the European Union. Courts within the UK have sided with airlines on this matter. "It seems unfair, that consumers are forced to fight a legal battle against an airline without any help from experts. It is unclear to us, why UK courts have decided to stand by the airlines on this matter instead of protecting passengers", comments van Bokhoven.
No changes in Terms & Conditions
Even after plenty of court rulings on this matter, plenty of airlines have still not adjusted their Terms & Conditions. According to data provided by Flight-delayed.co.uk at least five European airlines and multiple international ones still make use of this policy. "We have contacted Consumer Rights Protection Authorities as well as multiple airlines directly to shine light on this issue and force these airlines to adjust their policies. Sadly, most did not follow through", says van Bokhoven. The only airline to cooperate with Flight-delayed.co.uk was Wizz Air, who adjusted their Terms & Conditions. This adjustment however, has made the clause in question more unclear, instead of entirely acknowledging applicable law. Most other airlines however, did not change their Terms & Conditions at all. In a formal letter to multiple airlines, such as British Airways, the Passenger Rights Specialist has stated that passengers are legally entitled to be represented by a third party of their choice and that the airline should therefore adjust their Terms & Conditions. Despite the clear legal situation in the EU, most airlines have not complied with the demands made by Flight-delayed.co.uk and are therefore risking sensible fines should competent authorities and interest groups decide to take far-reaching actions on this matter and prohibit the use of these clauses.
Filing a claim with Flight-delayed.co.uk
In the event of a flight delay, cancellation or overbooking, we will gladly help you to enforce your rights with the airline. Flight-delayed.co.uk works according to the motto "No win, no fee". This means that we only charge a commission of 25% on the enforced amount in case of success - otherwise the service is free of charge for you! With the help of our claim calculator you can find out in just a few minutes, free of charge and without obligation, how much compensation you are entitled to. You are entitled to compensation or a refund for up to three years after the flight:
Trustpilot-Reviews of Flight-Delayed.co.uk
---