Ryanair and the Art of Over-Packing: Three Carry-On Solutions That Won't Break the Bank
Wednesday, October 25, 2023
With Ryanair, Size Matters: Ryanair cabin bag sizes and policies
For many of us, packing for a week-long trip in a backpack sounds like a bit of a nightmare. However, knowing your rights can better prepare you for a situation of this sort. Therefore, make sure that first and foremost, you get acquainted with Ryanair's baggage allowance, rules, and policies:
As you may know, if you don't want to spend any money on baggage, you are only permitted to bring one small bag onboard. Daunting as it may be; there are ways to do it if you do it right! Here's what we recommend:

Choose the right Ryanair backpack: our top 40x20x25 bags!

Bagging a Bargain: Decathlon Ryanair Bag
https://www.decathlon.co.uk/p/20l-bag-essential/_/R-p-324098
To start, the Kipsta 20L bag. The main advantages of this bag are twofold; the price and the dimensions. Standing firm at the 8 euro mark, you may just spend more on a seasonal coffee on your way to work than on this bag. Its dimensions, 40 X 23 X 20, are perfectly suitable for any Ryanair carry-on policy and you'll not have to worry about any unexpected charges for being over-limit at the check in counter. This lightweight bag is also one of our favourites for its side compartment - a pocket you can use to store any wet or dirty clothes, or cosmetics you may want to separate from the rest of your belongings. And pro-tip; when empty, the bag can fold itself to fit entirely in this side pocket, reducing its dimensions to 20 X 23 X 20!
Although an excellent choice for a quick weekend getaway, this bag may not be the best choice if your trip is much longer than two or three days. Its 20L capacity does not give much leeway for extra items and you'll have to bring the strictly necessary things only. Plus, this bag may be inconvenient for longer trips because of its reduced mobility; you can only carry it as a duffel bag which, over time, may cause some shoulder or upper back soreness. Nevertheless, at a mere 8 euros, the quality-price deal is one that you cannot find elsewhere, especially if you purchase it at a Decathlon sports store - guaranteeing you a 2 year warranty on the item!

The "That's Just Right": Amazon Ryanair Bag
https://www.amazon.com/Sinaliy-Backpack-Waterproof-College-Approved/dp/B0BX3S9KB6?ref_=ast_sto_dp&th=1
Secondly, the Sinaliy Large Travel Backpack is a distinguished middle point. At a price point of €46 or less, this 40L backpack is the perfect choice for those of us who love a separate compartment. Composed of many different pockets - including a hidden, anti-theft pocket at the lower back, perfect for holding onto your passport and valuables safely - this backpack provides easy access to your belongings and facilitates your packing experience. Unlike the 20L Kipsta bag, this backpack converts into a duffel bag at your leisure, providing you with comfort options throughout your vacation. Not only can you have more freedom in choosing what non-essentials to fit into the Sinaliy Travel Backpack, you can also choose between 9 different colours to match your personality and outfits!
With over 760 ratings on Amazon, this backpack sits comfortably at a 4.7/5 star rating and, like 760 others, we believe this may just be the perfect choice for your next adventure abroad!

Laughing all the Way to the Bank: EastPak X Ryanair
https://www.eastpak.com/nl-nl/bagage-c140/travelpack-tarp-black-pEK-0A5BBR-O13-OS--1-.html
Finally, our third recommendation is the Eastpak TravelPack. We understand that buying a backpack for over €100 defeats the purpose of not spending money on a carry-on suitcase - but hear us out. The quality of the materials, for one, is outstanding. The straps are padded for comfort, and the waterproof tarp material is available in dozens of colours and designs for you to choose from. We have no doubt that with some care, this backpack could last you several decades. To back this up, Eastpak offers a 30 year warranty on this product! This means that this hundred euro backpack would be a really smart investment for your travels to come for decades after.
At similar dimensions to the Sinaliy Large Travel Backpack, this 42L bag can fit way more than just the essentials. In fact, this backpack could very comfortably suit a week-long trip and could push even a month-long trip - as long as your packing method remains somewhat strategic. Still, the most attractive feature is the all-around zipper. This allows you to open the backpack to lay completely flat - like a book. The TravelPack can also convert into a duffel, has two front pockets, an internal laptop compartment, a side pocket, and a bottle holder. In the end, the somewhat intimidating €115 price point pales when considering this backpack could accommodate your weekend getaways, hikes, vacations, and backpacking adventures for years to come.

Ryanair flight delayed or cancelled?
You could receive up to £520 in flight compensation!
Check compensation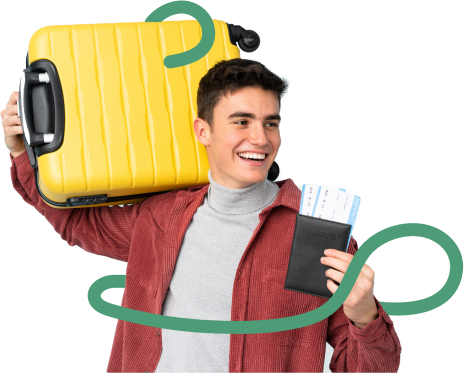 FAQ - Ryanair Baggage Allowance
1. What is the baggage allowance on Ryanair?
The basic, and most importantly, free baggage allowance for a Ryanair flight is any backpack or bag which complies with the following dimensions: 40 X 20 X 25cm. Keep in mind, it is all the more important that this bag fits underneath the seat in front of you - so be careful, even if the bag itself respects these dimensions, its shape is also important!
2. How Strict are Ryanair with Hand Luggage?
The baggage allowance policies from Ryanair is very clear. That being said, if you're feeling lucky, and you put your noggin to good use, you could probably get away with a couple extra items. Here's a couple quick hacks if you feel like testing your luck (but you didn't hear it from us): hook smaller pouches onto your bag using carabiner clips, wear a fanny pack in addition to your backpack, or stuff a neck pillow with some extra clothes! Beware, though, if you get called out by the airline before boarding, you will either have to get rid of whichever items don't fit in your regular 40 X 20 X 25cm hand bag or pay an extra fee to bring them with you.
3. Can I Take a Razor in Hand Luggage on a Ryanair Flight?
A regular Gillette-style razor is perfectly acceptable to pack in your hand luggage! In fact, most razors, even disposable razors, electric razors, and refill razor cartridges are allowed on flights. Other items you may wonder about include; hair straighteners, curling irons, nail scissors or clippers, and makeup. All of these items are compliant with the rules and regulations - so long as you are carrying no more than 100ml vials, and you are prepared to get your baggage searched during your security check - (hair straighteners, for example, often get searched because the ceramic plates appear quite similar to certain explosive components).
Remember, when it comes to Ryanair travel, packing light is the name of the game. With the right carry-on bag and some smart packing strategies, you'll be flying like a pro without breaking the bank!
We've got you covered!
If your Ryanair flight is delayed or cancelled, we help you claim flight compensation up to £520!
Check compensation