Top 7 Tips for a Smooth Journey with Turkish Airlines: Insider Secrets and Hacks.
Monday, April 24, 2023
Turkish Airlines, a globally acclaimed leader in air travel, has established itself as a top-tier choice for international travel enthusiasts. Boasting an expansive and unparalleled route network that stretches across Europe, Asia, Africa, and the Americas, Turkish Airlines with an unmatched number of flight connections is the go-to option for travellers seeking to experience the world's most sought-after destinations.
Hence, flying with Turkish Airlines is a great way to explore destinations across the world. But what if we told you there are some lesser-known tips and tricks to make your journey even more enjoyable?

Did you have a cancelled or delayed flight with Turkish Airlines?
Claim Turkish Airlines flight compensation!
Claim now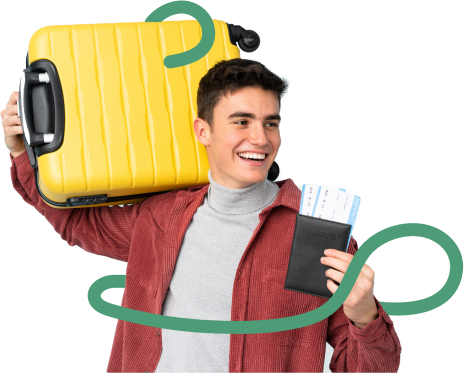 #1 Best time to book Turkish Airlines flights
Looking to book a flight with Turkish Airlines? Knowing the right time to book can save you a lot of money. It is recommended to book your flights well in advance — ideally around 3-4 months prior to your travel date. This is especially true for off-peak travel periods
Spontaneous summer vacation? Don't worry — Turkish Airlines frequently provides discounts and deals, so keep an eye out for flash sales and last-minute offers. With a little flexibility and some smart booking strategies, you can enjoy an affordable and comfortable journey with Turkish Airlines.
#2 Navigating Istanbul Airport
Navigating a bustling airport like Istanbul Airport can be an overwhelming experience for some travellers, but fret not! There are several ways to make your journey through the airport a seamless and enjoyable one.
To start off, make sure to download the Istanbul Airport app to stay on top of your flight's status and terminal information. Next, take advantage of the airport's guide available to all passengers, which can help you get familiarised with the layout of the airport. Lastly, take a look at the airport map and plan ahead for any layovers by checking out the airport's amenities, including lounges and restaurants.
#3 Discovering the Turkish Airlines lounge experience
Experience the ultimate in luxury and comfort with Turkish Airlines' exclusive lounges. Designed to cater to your every need, these airline lounges provide a range of top-notch facilities, including refreshing showers, delicious buffets, and more.
#4 Uncovering Turkish Airlines' hidden routes and destinations
Turkish Airlines offers one of the largest amounts of destinations in the world, from historic cities to unique, exotic islands. Amongst them are some hidden gems that offer an authentic travel experience.
Discover Dakar, Senegal, a vibrant coastal city rich in culture and history. Explore Tallinn, Estonia, and its picturesque Old Town- a UNESCO World Heritage Site. For the adventurous traveller, Havana, Cuba, is a must-visit with its unique music, art, and culture. And don't forget to experience the flora and fauna of Antananarivo, Madagascar, a one-of-a-kind African island. With Turkish Airlines, the possibilities are endless, and your next adventure is just a flight away.
#5 Flying with children on Turkish Airlines
Travelling with children can be challenging, but Turkish Airlines offers several amenities to make the journey more comfortable for families. The airline offers special infant seat belts to ensure the safety of your child and in-flight entertainment to keep them entertained throughout the flight. If you find yourself on an international flight pre-ordering infant meals before the flight is possible, you can relax knowing your little one will have the nourishment they need.
Need your children to travel without you? If your child is between the ages of 7 and 12 and needs to travel without you, Turkish Airlines offers an unaccompanied minor service. Its cabin staff will supervise your child from check-in to arrival, ensuring their safety and comfort throughout their journey.
#6 Making the most of Turkish Airlines baggage allowance
Packing can be a daunting task, but with a little planning and some packing tips, you can avoid excess baggage fees and have a stress-free travel experience with Turkish Airlines. It's important to pack smart to avoid any unexpected fees or problems at check-in. Start by checking your destination's weather and packing accordingly. To make the most of the space available in your suitcase try rolling your clothes instead of folding them, and use packing cubes to keep everything organised. Consider packing lightweight clothing and limiting the number of shoes you bring. Lastly, don't forget to check the restricted items list to avoid any possible complications.
And if you're unsure about your baggage weight or dimensions limit, don't worry - Turkish Airlines offers a free baggage calculator to help you out. If you tend to overpack and need a piece of extra luggage, consider upgrading to a higher-fare class.
# 7 Navigating flight disruptions with Turkish Airlines
Experiencing flight delays or cancellations with Turkish Airlines can be an unfortunate setback, but don't let it ruin your trip. Claim flight compensation for flight delays or cancellations with Flight-Delayed.co.uk.
Our team of experts with more than 10 years of experience can guide you through the claims process and help you maximise your chances of receiving successful compensation. Sit back, relax and let Flight-Delayed.co.uk handle the rest!

Why claim with Flight-Delayed.co.uk?
1m passengers helped
9 legal teams in 9 countries
98% of court cases won
Conclusion:
Travelling with Turkish Airlines can be a great experience if you know how to make the most of it. Make the best of your journey with Turkish Airlines by implementing our 7 hacks and tips that will enhance your travel experience. And if in the unfortunate event of any flight disruptions, don't worry! Flight-Delayed.co.uk is there to assist you in claiming compensation.