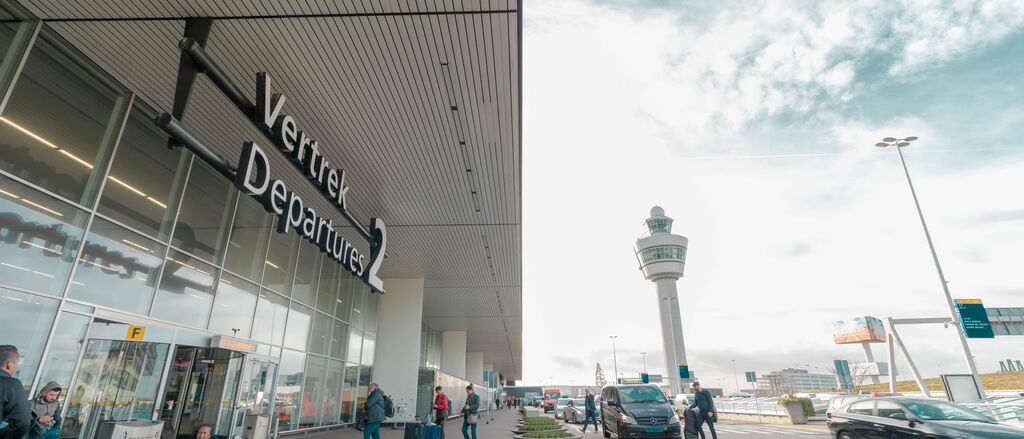 This one trick will help you be extra prepared for your Schiphol airport journey
Wednesday, September 14, 2022
Hate spending all day waiting in line at the airport? Or worse, arriving at the airport way too early because you anticipated crowds? Given the recent news about the chaos at Schiphol regarding wait times, flight delays and flight cancellations, you may be worried about missing your flight.
However, don't worry since we have a tip for you to lessen any anxiety you may have about your future flight at Schiphol airport!
It's a very simple solution: download the Schiphol app before your trip starts. The app is dubbed by the airport as "your ultimate travel companion" and this quote certainly seems to hold true. The app was released on January 4th, 2011 and is currently available to users in English and Dutch. 
Why should I download this app?
By having the app, you can access your flight information directly from your phone – the perks of this include being aware of which departure hall your check-in is located in before getting to the airport, receiving real-time updates on gate changes and flight delays, and more! 

Tailor your personal travel itinerary – The app gives you a head start on your journey with access to information about updated COVID-19 regulations, expected crowd levels by day (up to two weeks in advance) and even booking parking slots. You can do this by adding your specific flight to the app's homepage by either scanning your boarding pass or manually searching by flight number, city, or airport.

Know how long the lines are at Schiphol —  Arriving passengers are astonished to realise that there will be lengthy waits in line for security. With the app, you'll be aware of what to anticipate and how long you should expect to wait in line.

Get instant notifications – This lets you look at your updated flight itinerary even before it is displayed on the airport screens. Any updates about gate changes and flight delays are continuously monitored and concurrently adjusted on the app. For instance, next to your tracked flight, it might say 'GATE CLOSED', 'NOW BOARDING', or 'DELAYED'.'
Are there any special perks?
Receive unique offers on purchases  – With the app, you have access to exclusive discounts in the Schipol stores and can browse through available products ranging from books to watches to electronics. It also allows you to find out the exact price of any available product and its store location.

Pre-order refreshments and food – The perks of having the app even include purchasing food or drinks ahead of time! While you wait in line at security, all you have to do is check the menu of the place you would like to eat at, order, pay, and select the time that you want to pick up your order. After this, simply pick up your food once you're through security with no more hassle or waiting in lines.

Never go round in circles again – To help you find your way around the airport, an interactive map is available and it displays the layout of each floor (four in total) at Schipol airport. By zooming in and out of the map, you can see exactly where your expected gate is located as well as the surrounding retail outlets.

Find and report missing items – Also, the app has another helpful feature: the Schiphol Lost and Found. This function allows you to report a lost item or suitcase, tells you where to find the Lost and Found desks at the airport and around Amsterdam, and provides you with means of further contact if you still require assistance.
Where can I download the Amsterdam Schiphol app?
Download the Schiphol Amsterdam Airport app from the App Store or Google Play.
What if my Schiphol flight is delayed or cancelled?
Was your flight from or to Schiphol cancelled or delayed? Unfortunately, this happens.
Keep in mind that in such a situation, you can often claim compensation of up to £520 or €600.
Check if you are eligible now with our free, no-obligation Claim Calculator.
If you are entitled to compensation, our team at Flight-Delayed.co.uk can handle the rest of the process for you on a 'no win, no fee' basis. We will thoroughly analyse your claim using weather and aviation data, prepare the right legal documentation, reach out to the airline and, if necessary, even fight for your rights in court. With over 10 years of experience in helping air passengers across the world, we are your best choice when it comes to claiming flight compensation!

Keep in mind!
It is important to note that you should still be cautious and use multiple, trusted reliable sources to ensure that you have a smooth experience at Schiphol airport. For example, if the app says a 30-minute wait time to go through security, keep in mind that situations like those are hard to control and are susceptible to changes at any point of the day. Also, if the app is your main point of information, try to maintain working wifi and/or data connection to not miss any crucial information changes and updates.