How much compensation can I get for a delayed or cancelled flight to/from Portugal?
You can get Portugal delayed or cancelled flight compensation if your flight was delayed by more than 3 hours upon arrival or if the cancellation of your Portugal flight was announced less than 14 days before departure. Note that the airline must also be responsible for the flight disruption.

The compensation amount is based on the distance of your flight:

Note that if your flight is delayed or cancelled, the airline owes you special assistance. This includes food and beverage vouchers, communication, transportation and if needed hotels. You can claim those vouchers directly at the airline's service desk at the airport. If the airline doesn't provide you with vouchers, you can buy what you need and keep the receipts — the airline will have to reimburse you.

Flight compensation for a delayed flight from/to Portugal — check if you're eligible now!
If your Portugal flight was delayed, you may be eligible for flight compensation under the EU regulations. To qualify for Portugal delayed flight compensation:
Your Portugal flight must have arrived more than 3 hours later to your destination

Additionally, the responsibility for the delay must lie with the airline, meaning it must be due to reasons within the airline's control, such as technical issues or crew problems. Extraordinary circumstances like extreme weather or air traffic control restrictions may exempt the airline from providing compensation.
The compensation amount varies depending on the flight distance: the longer your flight, the higher the compensation.

Cancelled flight from Portugal - Compensation and refund policies.
If your Portugal flight was cancelled, you might be eligible for flight compensation, a full refund, or both. To be eligible for compensation, your flight must meet the following criteria:

The cancellation happened within 14 days before the scheduled departure date, AND

The airline was responsible for the cancellation. It's important to note that there may be situations where the airline can refuse to provide compensation to passengers. For more information on these situations, please refer to the "Extraordinary Circumstances" section of this article.
Ask for the refund of your flight from Portugal
You could be entitled to a refund from the airline in addition to your flight compensation. A full refund may be available if either the airline did not provide a replacement flight or if an alternative flight was offered, but you chose not to accept it.
Were you offered a voucher for your cancelled flight from Portugal? Here's what you should do.
If your Portugal flight is cancelled, avoid accepting a voucher as compensation. Vouchers may restrict you to the same airline and come with an expiration date, leaving you with limited options. Moreover, In the event of the airline declaring bankruptcy obtaining a refund may be challenging.

You might get £520 flight compensation for your delayed or cancelled Portugal flight.
With us, you can claim compensation in just a few minutes!
Claim now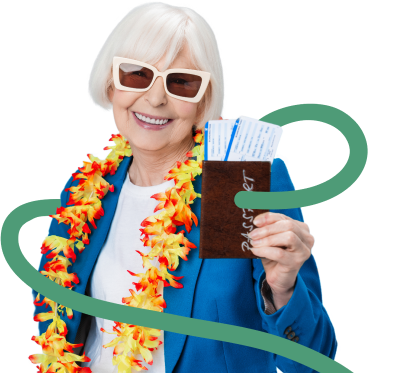 Flight delayed or cancelled to [destination], am I also entitled to flight compensation?
If you were flying to Portugal, the conditions to receive flight compensation or a refund for your delayed or cancelled flight to Portugal are slightly different.
For your delayed or cancelled flight to Portugal, you can receive flight compensation if:
You were flying from a European country or the UK

You were flying with a European or British airline
If your flight to Portugal was with a non-EU/UK airline and your flight departed from a non-EU country, your flight won't be subject to European regulations regarding flight compensation. More detailed information can be found in the table below:
| Type of flight | Example | Compensation |
| --- | --- | --- |
| Flying with a British carrier | Tokyo to London with British Airways | Yes |
| Flying with a EU carrier | Amsterdam to London with KLM | Yes |
| Flying with a non-UK/non-EU carrier from the UK | London to Tokyo with Japan Airlines | Yes |
| Flying with a non-UK/non-EU carrier to the UK | Tokyo to London with Japan Airlines | No |
Extraordinary circumstances disrupted my Portugal flight — can the airline really deny my compensation claim?
Flight compensation may not be provided in certain situations, known as extraordinary circumstances. These circumstances involve events outside of the airline's control, caused by a third party or unforeseeable circumstances.
Here are a few examples of extraordinary circumstances
Bad weather conditions, such as thick fog, heavy rain, or thunderstorms.

A strike, most often specifically within the aviation industry (for example, a strike of air traffic control workers at a specific airport).

However, a strike of the airline's crew is not considered an extraordinary circumstance!

Political circumstances, such as a terrorist attack or general security risk due to political unrest.

Natural disasters, including volcanic eruptions and hurricanes.

A collision between the aircraft and birds or other foreign objects.

An ill or unruly passenger.

Flight delays caused by the airport staff, such as extraordinarily long queues to security checks.
How long can I claim flight compensation?
The time limit for submitting a compensation claim is determined by the departure and arrival countries of your flight, as well as the airline's headquarters. If you travelled to or from Portugal, you have a period of 3 years to claim flight compensation according to Portuguese law. However, if the flight was operated by a British airline or to/from the UK, passengers can file a claim within 6 years in accordance with British law. (With the exception of Scotland where the limit is 5 years.)
What is the expected timeframe for receiving compensation for my Portugal flight?
The time it takes to receive compensation or a refund depends on the airline's response time, typically ranging from a few weeks to a few months. However, if the airline is unresponsive or refuses to provide compensation, legal action may be necessary, prolonging the process by several months or even years.
Our team of experts will keep you updated on any progress and will be available to address any concerns you may have during the claim process, regardless of how long it takes to settle your claim.
Why claim with Flight-Delayed.co.uk?
1m passengers helped
9 legal teams in 9 countries
98% of court cases won
About Portugese flights

Portugal is a country located in southwestern Europe, known for its rich history, vibrant culture, stunning coastline, delicious food, and charming cities such as Lisbon and Porto. The country has several international airports, including Lisbon Humberto Delgado Airport and Francisco Sá Carneiro Airport in Porto, with many airlines offering flights to and from Portugal. TAP Air Portugal is the country's flag carrier and largest airline, with a network that covers Europe, North and South America, and Africa. Other airlines that operate in Portugal include Ryanair, easyJet, British Airways, and Lufthansa, among others.
Useful links