How much compensation can I get for a delayed or cancelled flight from Italy?
The distance of the flight determines how much compensation each passenger receives for a disrupted Italy flight.
Flight compensation for a delayed flight from/to Italy — check if you're eligible now!
Whatever airline you fly with, if the following conditions are met, you could be eligible for up to £520 in flight compensation for a delayed flight from Italy:

Your flight from Italy was over 3 hours late because of a delay, AND,

The airline was to blame for the delay. Passengers will not be entitled to compensation from the airline if the delay was caused by an unforeseeable occurrence or a third party (for more information, see this page's section on "extraordinary circumstances").
Cancelled flight from Italy — compensation and refund policies
You may get up to £520 in flight compensation, receive your entire ticket cost refunded, or possibly both if your flight to Italy is cancelled. For more information on when you can be fully qualified for these benefits, continue reading!
Claim flight compensation for your cancelled flight from Italy
If your flight to or from Italy was cancelled, you must make sure you meet both of the following criteria to be qualified for flight compensation:

Less than 14 days before the scheduled departure date, your flight was cancelled, AND,

The cancellation was the airline's fault. More information about "extraordinary circumstances", situations where the airline is not responsible for the cancellation, can be found below.
| Cancellation notice | Alternative flight | Compensation |
| --- | --- | --- |
| Fewer than 7 days in advance | Departs 1h+ earlier or arrived 2h+ later | Yes |
| 7-14 days in advance | Departs 2h+ earlier or arrived 4h+ later | Yes |
| Fewer than 14 days in advance | No alternative flight offered | Yes + refund |
Unsure if your flight meets the requirements for compensation?
Our free, no-obligation Claim Calculator lets you check in as little as a minute.
Check my flight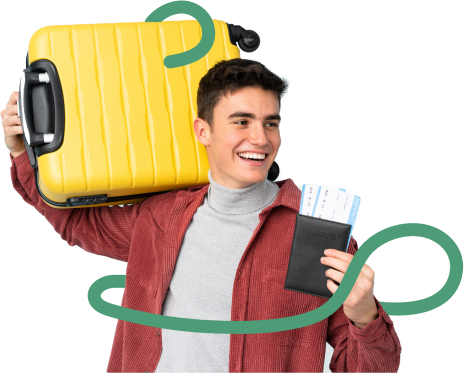 Were you offered a voucher for your cancelled flight from Italy? Here's what you should know.
We recommend against settling for a travel voucher instead of a monetary refund for the reasons listed below:

Accepting a travel coupon necessitates arranging an additional flight with the same unreliable airline. Airlines frequently include a cutoff date for redeeming a voucher as well.

If the airline declares bankruptcy, you might not be able to convert your voucher into a cash refund, which would mean you would lose your money.
Flight to Italy delayed or cancelled, am I also entitled to flight compensation?
If you were flying to Italy, the guidelines for claiming flight compensation or a refund are slightly different.
You can claim flight compensation for your delayed or cancelled flight to Italy if:
You were flying from a European country or the UK

You were on a European or British airline.
If your flight to Italy was operated by a non-EU/UK airline and your flight originated in a non-EU country, you will not be subject to European legislation governing flight compensation. More details are available in the table below:

| Type of flight | Example | Compensation |
| --- | --- | --- |
| Flying with a British carrier | Tokyo to London with British Airways | Yes |
| Flying with a EU carrier | Amsterdam to London with KLM | Yes |
| Flying with a non-UK/non-EU carrier from the UK | London to Tokyo with Japan Airlines | Yes |
| Flying with a non-UK/non-EU carrier to the UK | Tokyo to London with Japan Airlines | No |
Get in flight compensation for your delayed or cancelled Italy flight.
With us, you can claim flight compensation of up to £520 in just a few minutes!
Claim Compensation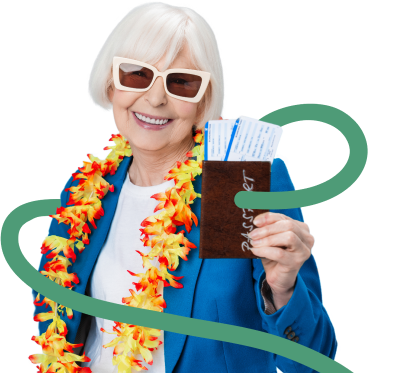 Extraordinary circumstances disrupted my Italy flight — can the airline really deny my claim?
The airline must be at fault for the flight disruption for you to be eligible for flight compensation.
When a third party or a force majeure event results in a cancellation or delay, the airline is not required to compensate for the inconvenience. These situations are what we refer to as extraordinary circumstances.
Here are a few examples of the most common extraordinary circumstances:
Bad weather conditions, such as thick fog, heavy rain, or thunderstorms.

A strike, most often specifically within the aviation industry (for example, a strike of air traffic control workers at a specific airport).

However, a strike of the airline's crew is not considered an extraordinary circumstance!

Political circumstances, such as a terrorist attack or general security risk due to political unrest.

Natural disasters, including volcanic eruptions and hurricanes.

A collision between the aircraft and birds or other foreign objects.

An ill or unruly passenger.

Flight delays caused by the airport staff, such as extraordinarily long queues to security checks.
You can relax, as you don't have to delve into the reasons behind your delayed or canceled flight to Italy. Our team of experts will handle this on your behalf by meticulously comparing internal and external aviation data, guaranteeing you receive the compensation you're entitled to for your Italy-bound flight.
How long do I have to I claim for my delayed or cancelled flight from Italy?
Depending on your flight's itinerary, various country regulations may apply. You have 5 years under Italian law to file a claim for flight compensation. However, passengers are always free to select the option that best suits their needs.
Therefore, when the country of departure or destination is not Italy, a claim may be made under the law in that country. For instance, under British law, if you take a flight from the UK to Italy, you have 6 years to bring a claim for flight compensation. The exception is Scotland, where you would have 5 years to make a claim.
Your time to submit the claim when travelling outside the UK or the EU will be governed by local law.
How long before I receive my flight compensation for my Italy flight?
Most of the time, claims are handled quickly, and passengers receive their money back within a few weeks or months.
Unfortunately, the waiting period may increase by a few months or even a few years if the airline is unresponsive and/or legal measures in court are required.
However, if you choose to file a claim for compensation and/or a refund with the aid of Flight-Delayed.co.uk, rest assured that we will protect your rights to the very end, including in court. No matter how long your claim takes, we'll keep you informed of any significant developments and be available to answer any questions you may have.
How can I claim for an Italy flight cancelled or delayed?
File a claim with Flight-Delayed.co.uk to boost your chances of receiving flight compensation in less than 5 minutes!
How does the procedure work? All relevant paperwork can be uploaded to our website in a matter of minutes. Then, our experts will review your claim, compile the necessary paperwork, contact the airline's legal representation, and, if required, file a lawsuit.

Why claim with Flight-Delayed.co.uk?
1m passengers helped
9 legal teams in 9 countries
98% of court cases won
About Italy flights
Italy is one of the most visited countries in the world by tourists, so it's no wonder that there are massive international airports in practically every major city. There are 77 airports in this beautiful country. Direct flights are available to various destinations, including Milan, Rome, and Naples. Modern airports are positioned conveniently near the city centre, and several trains and buses will take you to other parts of Italy, like the Amalfi Coast and the Venetian canals.
The Leonardo da Vinci Airport in Rome is Italy's largest airport and the main hub for Alitalia, the country's largest airline. Although Ernest Air, Neos, and Ego Airways operate regional flights, Blue Panorama, Ita Airways, and Aeroitalia operate flights to national and international destinations. There is also Air Dolomiti, which focuses on German cities.
Nowhere else in the world is as gorgeous as Italy, from the countryside of the rolling hills dotted with historic villages in Tuscany to the sheer cliffs with colourful buildings on the Amalfi Coast. Italy not only offers a plethora of festivals, carnivals, and celebrations, but it also has one of Europe's best and most diverse climates.
Useful links