Top 10 best destinations for the summer holiday.
Tuesday, May 2, 2023
With summer just around the corner, it's time to start thinking about your next unforgettable holiday. Whether you're looking for a relaxing beach vacation, an adventurous outdoor experience, a city break, or to immerse yourself in local culture there's something for everyone.
So why wait? Get started now, let our carefully crafted TOP 10 summer holiday destinations inspire you and help you find the perfect spot for your next getaway. Let the countdown to your summer holiday begin!

Did you have a cancelled or delayed flight?
Check if you can claim compensation up to £520 per passenger!
Check my flight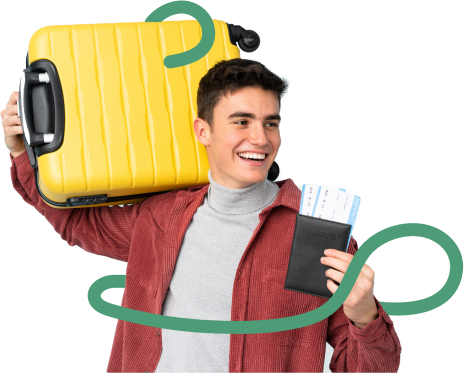 #1 Amsterdam
Amsterdam is a breathtakingly beautiful city, known for its picturesque canals, vibrant nightlife, and charming architecture. It's the perfect summer holiday destination, offering a variety of things to see and do, from the Van Gogh Museum to the historic Anne Frank House. Whether you're seeking cultural enrichment or simply looking to immerse yourself in the city's vibrant energy and nightlife, Amsterdam is the place to be.
#2 Morocco
Morocco, a beautiful North African country, boasts an enchanting combination of vibrant culture, stunning architecture, and breathtaking landscapes. From the vibrant streets of Marrakech to the peaceful beaches of Essaouira, Morocco is a destination that offers something for every kind of traveller. Visitors can indulge in delicious cuisine, explore ancient ruins, or immerse themselves in the vibrant local culture.
#3 Singapore
Singapore is a dynamic city-state that seamlessly blends tradition and modernity. Its futuristic skyline and innovative infrastructure are world-renowned, while its culturally diverse neighbourhoods and delicious food scene make it a truly unique destination. Whether you're interested in shopping, sightseeing, or just soaking up the atmosphere, Singapore has something to offer everyone.
#4 Italy
Italy is a breathtaking country, renowned for its rich history, stunning architecture, and delicious cuisine. Travellers can marvel at Michelangelo's works, enjoy a gondola ride in Venice, or savour delicious pizza in Naples. The country's stunning coastline, charming villages, and scenic landscapes make it an ideal summer destination. It's no wonder that Italy remains one of the world's most beloved travel destinations.
#5 Jordan
Jordan is a fascinating country that offers a window into the past, with a rich history and ancient ruins such as Petra, Jerash, and the Dead Sea. Visitors can explore desert landscapes, and marvel at the stunning natural beauty of the country. Jordan is also known for its hospitality, delicious food, and warm climate, making it a welcoming and memorable destination for all.
#6 Paris
Paris — a city of endless charm and enchantment, with its timeless architecture, world-class cuisine, and rich heritage. From the iconic Eiffel Tower to the romantic Seine River, there's no shortage of iconic landmarks to explore. Visitors can wander through the Louvre Museum, or savour delicious croissants in a café. With its rich culture, vibrant energy, and beauty, Paris is undoubtedly one of the most magical cities in the world.
#7 South Africa
South Africa is a country of natural wonders and diverse cultures, with many popular attractions such as Kruger National Park, Table Mountain, and Cape Town. Whether you are interested in wildlife, beaches, history or culture, South Africa has it all.
#8 Spain
With its beautiful beaches, vibrant cities, and delicious cuisine, Spain is a top destination for summer holidays. From the stunning architecture of Barcelona to the laid-back charm of Andalusia, Spain has something for every type of traveller.
#9 Turkey
Turkey is a stunning country that spans Asia and Europe, offering a unique blend of history, culture, and natural beauty. With bustling cities and marvellous beaches, Turkey has something to offer every kind of traveller. Whether you're interested in exploring ancient ruins, relaxing on the beach, or immersing yourself in the vibrant culture, Turkey has it all. From the lively streets of Istanbul to the beautiful beaches of Antalya, Turkey is a destination that promises to leave a lasting impression on all who visit.
#10 Tokyo
Tokyo, the vibrant capital of Japan, seamlessly blends futuristic technology and profound traditional culture. Known for being the safest place to travel, Tokyo offers stunning landscapes that captivate visitors from all over the world. It truly is the beating heart of Japan and a must-visit destination for anyone looking for an unforgettable travel experience.
Travel disruptions like flight delays or cancellations can be frustrating and create unfortunate setbacks along your journey, but don't let them ruin your trip. Claim flight compensation for flight delays or cancellations with Flight-Delayed.co.uk.
Our team of experienced professionals with over 10 years of expertise can guide you through the entire claims process and ensure the best possible outcome. So, let us take care of the rest, while you focus on making unforgettable memories that will last a lifetime.
Whether you had a Ryanair flight delayed or easyJet flight cancelled — we can help you fight what you're entitled to.
With so many incredible destinations to choose from, the possibilities for your next summer holiday are endless. From the charming canals of Amsterdam to the vibrant streets of Singapore but also Malta. These destinations offer unique cultural experiences, stunning natural beauty, and exciting activities to make your summer holiday unforgettable. So pack your bags and get ready for an adventure of a lifetime!