The ultimate guide to the best holiday destinations in Turkey
Monday, April 24, 2023
Why Turkey is the best holiday destination for your next getaway.
Turkey — a country spanning across both Asia and Europe offering a unique blend of history, culture, and natural beauty. From bustling cities to marvellous beaches, Turkey has something for everyone. If you're planning a holiday to Turkey, you're in luck because there are countless amazing destinations to choose from.

Turkey flight delayed or cancelled in the past 6 years?
Check if you are eligible for flight compensation of up to £520 per passenger!
Check my flight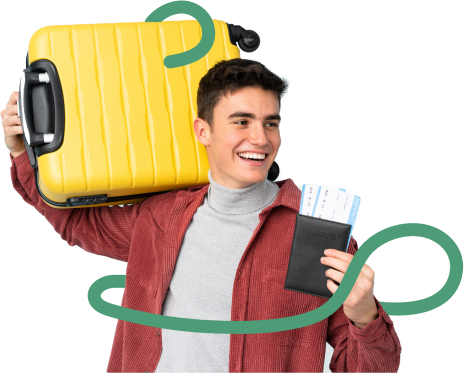 Here are the TOP Turkey holiday destinations to travel to this summer:
#1 Istanbul
Istanbul is a city that needs no introduction. The largest city in Turkey and one of the most popular destinations in the world. This vibrant city offers an incredible mix of historical landmarks, bustling bazaars, and modern architecture. Be sure to visit its iconic sites like the Blue Mosque, Hagia Sophia, and Grand Bazaar, one of the oldest and largest covered markets in the world.
#2 Cappadocia
If you're looking for an otherworldly experience that feels straight out of a fairy tale, look no further than Cappadocia. Situated in the heart of Turkey, this magical region is known for its unique rock formations, hidden underground cities, and unforgettable hot air balloon rides.
#3 Antalya
Antalya is a coastal city located in the southwestern region of Turkey. Known not just for its gorgeous coastline but also for its historical importance. Visitors can explore many ancient ruins and landmarks in the city, including Hadrian's Gate and the ancient city of Perge. The city offers plenty of opportunities for outdoor activities, such as hiking and rafting. With its perfect combination of history, natural beauty, and adventure, Antalya is a must-visit holiday destination for anyone travelling to Turkey.

#4 Izmir
If you're looking for a hidden gem on Turkey's coast, Izmir is the perfect destination! Often overshadowed by Istanbul and Antalya, with its rich history, stunning beaches, and vibrant culture, Izmir is a must-visit destination for anyone travelling to Turkey. And don't forget to indulge in the local cuisine, which includes delicious seafood dishes and desserts.
#5 The Temple of Artemis
A road trip along Turkey's stunning coastline wouldn't be complete without a stop at the Temple of Artemis. One of the Seven Wonders of the Ancient World, a grand temple dedicated to the Greek goddess Artemis. While only a few fragments of the temple remain in the ancient city of Ephesus (modern-day Turkey), it's still a must-see destination for history and architecture enthusiasts.
#6 Marmaris
Located on the Mediterranean coast of Turkey. A picturesque destination for beach lovers and outdoor enthusiasts. Surrounded by stunning mountains and crystal-clear waters, making it an ideal spot for water sports like diving, snorkelling, and sailing. Come and soak up the sun, sea, and sand in Marmaris — the ultimate spot for a laid-back holiday experience.
#7 Pamukkale
Pamukkale, also known as the "Cotton Castle" of Turkey, is located in the Denizli Province. A mesmerising natural wonder known for its white terraces of mineral-rich water flowing down the hillside.
A stroll along the terraces and a refreshing dip in the thermal pools offer an unforgettable one-of-a-kind experience, it is a must-see for anyone seeking the beauty and wonders of nature.
Outro
Turkey offers an incredible range of holiday destinations, from historical landmarks to beautiful beaches and natural wonders. Whether you're interested in culture, history, or outdoor activities, Turkey has something for everyone. So, pack your bags and get ready for an unforgettable trip to one of Turkey's holiday destinations.