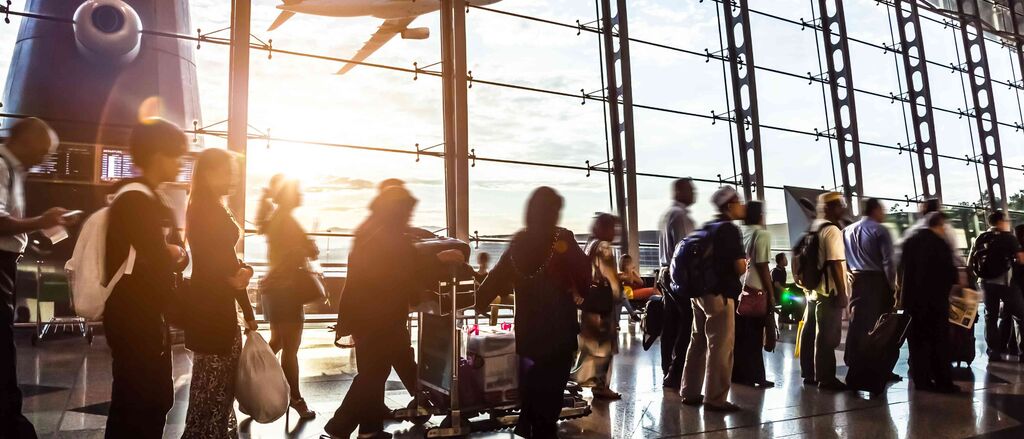 Flight delayed? What airports are doing in order to avoid delays caused by boarding
Tuesday, November 5, 2019
It's always the same story: when booking your flights, you select a specific seat at the front or rear of the aircraft and board through the part that makes the most sense according to your seat number. However, some passengers struggle to understand this simple and actually quite efficient concept. This is a rising issue for airlines since they pretty much have to pay for any additional time that they are forced to stay on the ground past their initial schedule.
The ever-curious people at Gatwick airport have now set up an experiment on passenger boarding procedures. The experiment will be held at Gate 101 of the North Terminal.
What is the aim of the experiment at Gatwick airport?
Gatwick airport, the UK's second most active airport, is conducting an experiment into what improvements can be made to boarding procedures in order to reduce the possibilities of flights being delayed because of inefficient aircraft boarding. How can airports organise a faster boarding to get people into their seats with less hassle? How can passengers learn through which door of the aircraft they should board? These are some of the questions that Gatwick airport is aiming to answer.
What will the experiment at Gatwick airport include?
Passengers will be directed onto the aeroplane according to their seat and row number. In theory, passengers in the last rows should always board first and passengers with a window seat will be at the top of the queue and must take their seats before everyone else, followed by those in the middle and aisle seats.

However…
This experiment may sound good in theory but is difficult to carry out in a scenario where multiple families are booked onto a flight and everything descends into chaos.
Alternatively, the airport has created a plan to avoid this issue. Passengers will still be told to board the aeroplane from the back but the optimised process will leave a two-row gap between the boarding passengers. This is designed to give travellers enough space to place their bags in the overhead bins and travel back to their seat without having to squeeze past others.
An authority at Gatwick airport explained that "by communicating to passengers better and boarding passengers by seat number, we also expect to make the whole boarding experience more relaxing and, potentially, prevent large numbers of passenger rushing forward at any stage".
Airlines such as EasyJet, Ryanair and British Airways are sceptical
Ryanair, which operates many flights from the London airport on a daily basis, already works its flights through a more efficient system which advises passengers to enter the aircraft according to their seat.
On the other hand, budget airlines have boarding operations that encompass a 'speedy' or 'priority' ways of boarding. Especially EasyJet, which is based at Gatwick airport, would have to disregard what passengers have booked, in order to commit to the experiment. An EasyJet representative explained that "a small number of EasyJet flights that use Gate 101 are taking part in the trial initially". Doubtfully, it was explained that "this isn't something we are looking to implement across our network but will work with Gatwick to study the results of their trial when it closes".
Conclusively, the experiment may also evaluate whether it makes sense for carriers, such as Ryanair and EasyJet, to disregard their boarding schemes in interest of swifter flight operations.
Flight delayed, cancelled or overbooked at Gatwick airport?
Your passenger rights are protected by Regulation EC No 261/2004. According to the legislation, an airline has to pay its passengers compensation if their flight has been delayed for more than three hours, cancelled or overbooked. Depending on the exact circumstances, the compensation can range from £220.00 up to £528.00 per passenger.#
However, airlines tend to make claiming as difficult as it can be. Carriers will try to avoid paying compensation. Filing a claim on your own requires knowing your rights, being sure that the flight is eligible and back and forth communication with the airline. If you would prefer not to waste your time and test your patience, just let us know as we would be more than happy to assist you herewith. With an elaborate database on actual flight schedules and weather conditions, years of experience and a 98% success rate in court, we're more than well equipped to take on your claim. Did we forget to mention our no win, no fee structure? If we need to take your case further to court, we'll take on all of the risk and legal fees. Only if you get paid will we charge a 25% success fee.
Don't want to miss out on any new blog entries? like and follow us on Facebook and Twitter.
---
Trustpilot-Reviews of Flight-Delayed.co.uk
---